The Ambiente derives its name from the word 'ambience', encapsulating the vibration, diverse characteristics and mood of a surrounding. Defined by the name itself, the design atelier believes that a rug has an ability to determine the atmosphere of a living space. Crafting a new life into the traditional technique of handweaving, the ambiente has a rug for everyone. 
The brand finds its origin in a quaint bustling town called Bhadohi, amidst the holy choruses, the scrumptious kebabs and the illustrious architecture of Uttar Pradesh. 
Embracing the identity of its birthplace, the ambiente's rug designs cater to the diverse soul of Indian homes. Every rug deeply imbibes the rich culture and craftsmanship, while manifesting modernity and seamlessness. 
After gaining extensive experience with their 30-year-old parent company, Bhadohi carpets, Avani along with her brother-in-law Ayush set foot in the Indian market to make the luxury of a handwoven rug accessible. With their fairly priced woven wonders, they aim to not just adorn and accentuate homes but to educate them on its painstaking creation and its outstanding utility. 
Exploring with colours and innovating in textures, the ambiente weaves together age-old craftsmanship and contemporary design to create rugs that are utterly unique yet immensely versatile.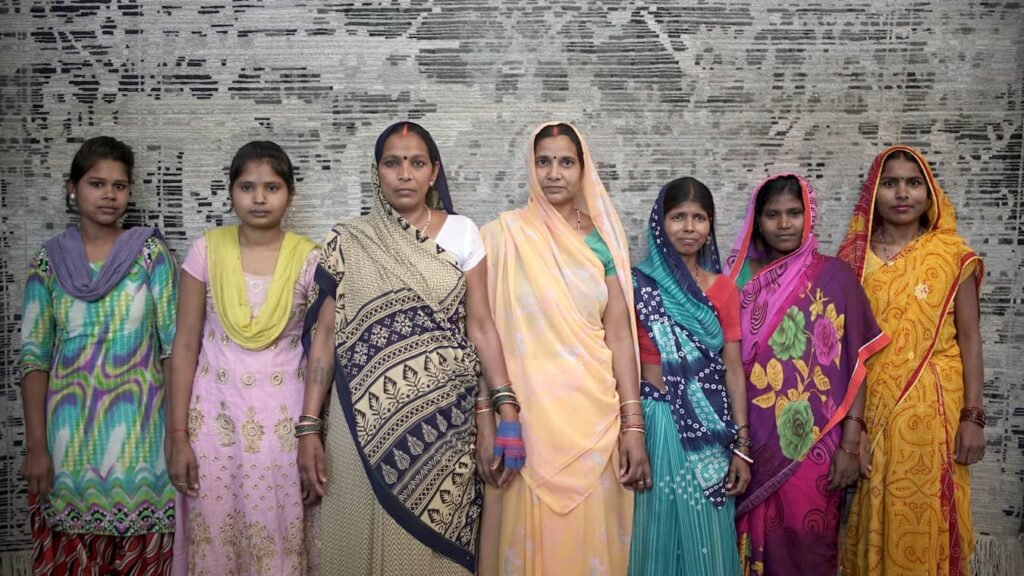 "Our aim with the ambiente is to disrupt the current rug market and create an online space that has a rug for every Indian home- from affordable to luxury. Our artisans are working in close collaboration with our experienced design team to create outstanding hand woven floor covering that is fresh, trendy and timeless!" –Avani, Founder
Life took a yarnful turn for Avani when she tied the knot with rug-man Priyam Baranwal, the present owner of 30-year-old manufacturer and exporter Bhadohi Carpets.  Hailing from the heritage city of Jaipur; craft and culture have always formed a special place in her heart. After moving to Bhadohi, her love for crafts naturally drew Avani towards the knotted beauty of carpets and she found solace in working alongside her husband thereafter.
Having sensed a gap in the market, she weaved together her passion for rugs, a knack for aesthetically curated interiors and experience in business management to create what she calls today, 'the ambiente'. An MBA education from Management Development Institute, Gurgaon and a versatile corporate experience in marketing, consumer behaviour and sales, helped Avani gain a good understanding of the contrasting behaviour of our country's consumers. Hence, through this new journey, she intends to make the beauty of handcrafted rugs a part of every Indian home's story.
A Graduate degree holder in Business Management from Stony Brook University, New York, Ayush Baranwal is the youngest thread of the three decade old Bhadohi carpets.  Having experienced the rug industry around him while growing up, he envisions to bring a new-age outlook and take the rug business a notch above with the The Ambiente. Through the brand, he seeks to culminate his affinity for the industry and his exposure to the western lifestyle, keeping in mind the rapidly transforming trends. His mission at The Ambiente is to bring a curated collection of exquisite rugs that is driven by designer excellence, quality craftsmanship and innovation, or as the company puts it, to conjure "emotions" in the Indian market.
Blooming from South Asia's largest hub of hand-knotted carpet weaving Industry- Bhadohi, traditional craftsmen and rural artisans form the essence of our brand. The Ambiente's strength lies in its integrated collective of artisans, designers, stylists and architects. Each of them works in close collaboration with the other, to create rugs that are suis generis in design, feel, comfort and utility. We at The Ambiente aim to empower, promote and connect our local artisans by providing them a sustainable livelihood, recognition for their work as well as an ecosystem to co-create and learn. 
It also gives us immense pride to state that 4000 of our total workforce is women, coming from various walks of life and different age groups. With the belief that women are the backbone of society, we envision to involve women at every stage of our making process